We are
A company dedicated to the design and development of solutions based on
artificial intelligence

and

big data

, with the objective of increasing productivity and improving the efficiency of Media and Industrial organizations.
Media & Entertainment
While the data flow mobilizes the new digital economy, Machine Learning and Big Data tools can predict the users behavior based on their consumption habits. We help the media integrate this technology in order to increase the production of content and increase the levels of audience.
Read more
Industry 4.0
The fourth industrial revolution changes the way organizations perform their operations. Data takes an active role and becomes a key factor to optimize the business. We help develop the necessary capacities in each organization for them to use, enrich and protect their information.
Read more
We do
We specialize in the construction of solutions based on Machine Learning, Big Data and IIoT so that our clients can resolve complex problems in a simple way and successfully accomplish their business objectives.
Machine Learning
We offer simple and innovative solutions to complex problems. We are able to reduce costs, increase the levels of productivity, quality, efficiency and help optimize the decision making process by applying a combination of sophisticated algorithms and developing custom AI (Artificial Intelligence) models based on the information provided by each organization.
Big Data
We transform large volumes of data into information and help every organization to manage their new asset. We develop and implement solutions that allow the capitalization of information, therefore facilitating their better utilization and the decision making process in real time.
Industrial Internet of Things
Together with Moltech, we implement essential solutions of automatization for the industry. We interconnect machines, tools, pre-existing devices and incorporate new sources of data (sensors) that are necessary to monitor and control every single production line.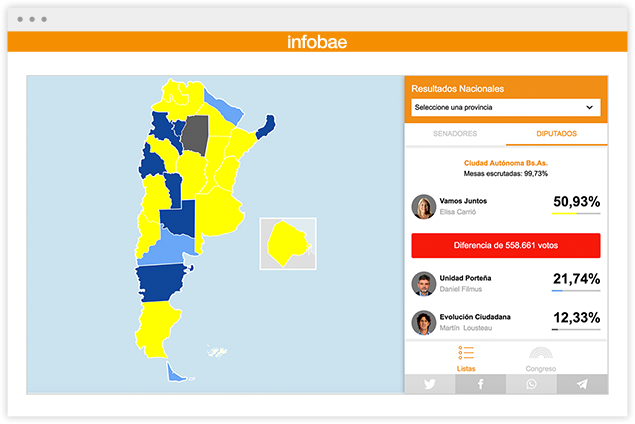 Infobae
2017 Elections
We created an infographic mobile and web app for the 2017 Legislative Elections. We created a platform that immediately processed all the data released by the National Electoral Comission, and published itin real time, with an impressive update speed that allows us to constantly be one step ahead of our competition.
Read more
We specialize in applying innovative, safe and groundbreaking technologies to create quick and efficient solutions.
Simplicity
We believe that less is more
Creativity
We search for original solutions
Excellence
We develop solutions for demanding users
Passion
We love what we do
Learning
We develop, analize and improve
Evolution
We want your business to enhance
Buenos Aires
Argentina
info@sinapsis.co
+5411 2085-9524
Thanks!
We'll get back to you soon.